Intuitive reading and energy healing appointments are available by appointment in Lakewood, Colorado and Denver, Colorado.
Distant / Remote Intuitive healings can be done over the phone or via Skype.

I tap into your energy field and your higher spirit along with your Guides or Angels.
Distant / Remote Intuitive reading and energy healing appointments:
Payments must be received before the appointment.
Anita has International clients in Thailand, Canada, Germany, Austria as well as clients across America; from California to New York to Florida.
Whether you call her readings with an energy healing; Intuitive Reading, Women's Intuition, Clairvoyant Reading or Psychic Reading, they all work the same. Anita is also a Certified Reiki II healer.
Certified Angel Therapy Practitioner®:
Certified by Doreen Virtue, PhD, Anita Destino is an Angel Therapy Practitioner® and during a healing session you may be introduced to your angels, receive and communicate messages from angels or loved ones who have crossed over and works within the angelic realm for a deep and intense healing.
Small investment for a life changing outcome!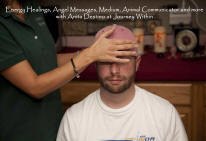 Anita's intuitive readings and energy healings are; $150 per hour,
a 1 hour session, by appointment.
In person or distant / remote over the phone.
If Anita travels to your home (Denver Metro Area) the fee is $180 per hour
You are more than welcome to bring a recording device for your private session.

For students currently enrolled in Level 1 Programs, Level 2 Develop Your Intuition Programs, Level 3 Journey Within Programs, Level 4 Journey Deeper Programs, Teachers' Training or One to One; intuitive readings and energy healings
are $125 per hour.
All major credit cards accepted.
Book time for yourself now.